as if famewhores ever want to be camouflaged….
They don't love the hoes…
Armenia may have been impressed with the Family Kardashian, but let's get real here: it's ARMENIA!
Israel, on the other hand…
Kuntye landed in Israel and although they were welcomed, there was a definite border once the famewhores descended onto holy ground. When Kim and Kanye decided to have a meal with Mayor Nir Barkat in Jerusalem, the media followed their every move, but for certain publications on the scene, the thought of Kimmy in their papers didn't sit well and so a little airbrushing was done. Now, this is definitely not the kind of Photoshop f*ckery Kardashians ever have in mind.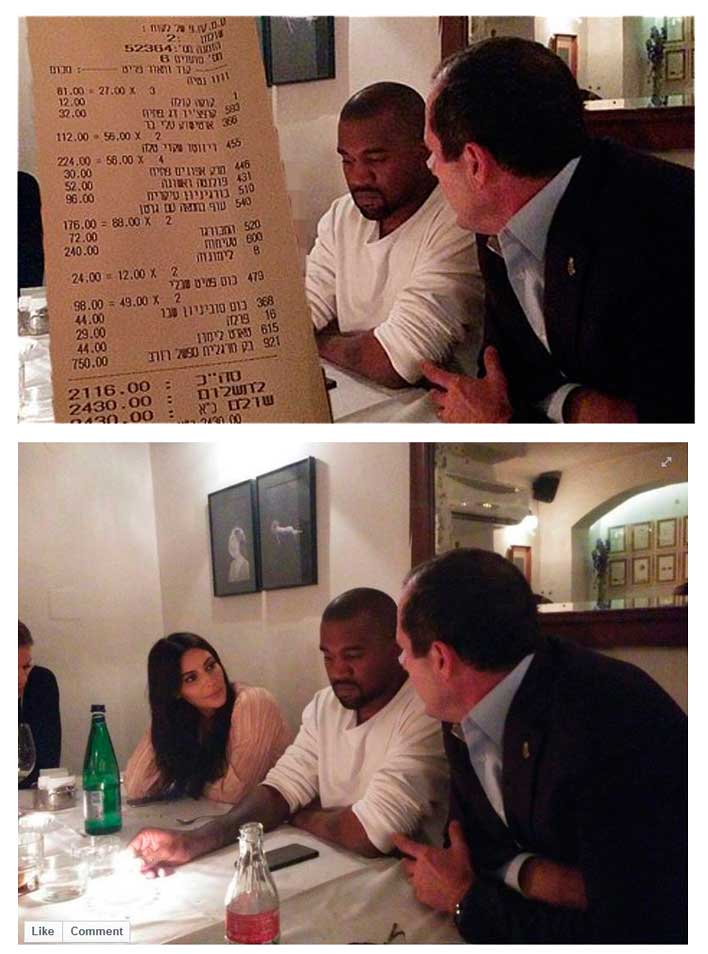 Not only was Kim airbrushed out of the photo with the mayor, but she was not even referred to by name in the accompanying article on the Kikar HaShabbat site, instead referred to as "West and his wife".
Exit Kardashian.
Exit head(lines).
Enter – verbal SLAP –
And the editor at Kikar HaShabbat didn't stop there, explaining that Kim Kardashian is a "pornographic symbol" who contradicts ultra-Orthodox values.
Furthermore, the article on the matter states, "Within the insular Ultra-Orthodox community, pictures of women often aren't shown out of modesty."
yes, North, we smell it too….
Because who wold put it past Kimmy K to have a major wardrobe malfunction right on the streets of Jerusalem?!
Never put anything past THOTs and hofessionals!